| | |
| --- | --- |
| | We need your help, users! This article/section is a stub, meaning there is little information to fill its contents and needs more information to expand it upon. If you know any information taken from gameplay or strategy guides, you can help Arwingpedia's article by expanding it. Referenced sources are appreciated. Hurry users! |

The Star Fox: Assault Orchestra Soundtrack is a soundtrack composed by Yoshie Arakawa and Yoshinori Kawamoto and produced by Nindori Music. Its tracks are orchestrated, and based on the music from Star Fox: Assault. It was distributed as a pack-in in Japan's Nintendo Dream magazine on February 21, 2005, seven days after the release of the game.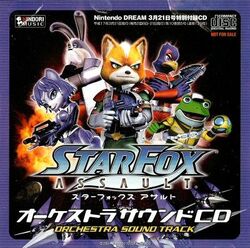 Track Listing
Star Fox's Theme
Space Battleground
Heroic Pursuit
Break Through the Ice Field
Mission: Recapture the Capital
Violent God's Invasion
Aparoid Fierce Attack
Versus - Great Fox
Versus - Katarina Base
Community content is available under
CC-BY-SA
unless otherwise noted.