Shigeru Miyamoto is a Japanese designer and producer who has been employed at Nintendo since 1977. He has been called the "father of modern video games" and "the Walt Disney of electronic gaming" for helping create the Star Fox, Super Mario, Legend of Zelda, Donkey Kong, Pikmin and F-Zero franchises and games such as Nintendogs and Wii Music series of videogames
Miyamoto created the Star Fox series, along with Takaya Imamura (the lead character designer), Katsuya Eguchi, and Yoichi Yamada, designed the first Star Fox game for the Super Nintendo.
He is still with Nintendo, creating games.
Biography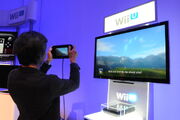 Shigeru Miyamoto was born on November 16th, 1952, in Sonobe cho, Kyoto, Japan. As a young boy, Miyamoto loved to draw, paint pictures and explore the area surrounding his house. In 1970, he enrolled in the Kanazawa College of Art and graduated five years later — though he later remarked that his studies often took a backseat to drawing.
First employed by Nintendo as an artist in 1977, he designed one of their first coin-operated arcade games, Radar Scope, which was less successful in the United States than Nintendo hoped. He then reused the game's hardware and modified it into Donkey Kong, which was a huge success.
In November 2009 Miyamoto claimed that Nintendo would not employ him today if he applied for a position with his original qualifications.
Awards and recognition
The name of the main character of the PC game Daikatana, Hiro Miyamoto, is an homage to Miyamoto.
The character Gary Oak from the Pokémon anime series is named Shigeru in Japan and is the rival of Ash Ketchum (called Satoshi in Japan). Pokémon creator Satoshi Tajiri was mentored by Shigeru Miyamoto.
In 1998, Miyamoto was honored as the first inductee into the Academy of Interactive Arts and Sciences' Hall of Fame.
In 2006, Miyamoto was made a Chevalier (knight) of the French Ordre des Arts et des Lettres by the French Minister of Culture Renaud Donnedieu de Vabres.
On November 28, 2006, Miyamoto was featured in TIME Asia's "60 Years of Asian Heroes," alongside Hayao Miyazaki, Mahatma Gandhi, Mother Teresa, Bruce Lee and the Dalai Lama. He was later chosen as one of Time Magazine's 100 Most Influential People of the Year in both 2007 and also in 2008, in which he topped the list with a total vote of 1,766,424.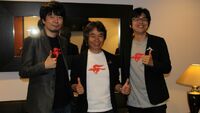 At the Game Developers Choice Awards, on March 7, 2007, Miyamoto received the Lifetime Achievement Award "for a career that spans the creation of Donkey Kong, Super Mario Bros. and The Legend of Zelda to the company's recent revolutionary systems, Nintendo DS and Wii."
Both GameTrailers and IGN placed Miyamoto first on their lists for the "Top Ten Game Creators" and the "Top 100 Game Creators of All Time" respectively.
In a survey of game developers by industry publication Develop, 30% of the developers chose Miyamoto as their "Ultimate Development Hero". Miyamoto has been interviewed by companies and organizations such as CNN's Talk Asia and NextLevel.com.
Miyamoto's Route
"General S. Miyamoto, Chief of Staff in the Cornerian Expeditionary Force, has mapped out his favourite route, 24, for your consideration."
—Official Nintendo Power Player's Guide
Corneria>Sector Y>Katina>Sector X>Sector Z>Area 6>Venom II
Trivia
According to the Star Fox 64 Official Nintendo Power Player's Guide, General S. Miyamoto is an obvious reference to Miyamoto himself. The above route is also honourably named after him.
His favourite game is Pac-Man.
External links