| | |
| --- | --- |
| | This page is currently undergoing maintenance. This may be due to out of date information or new information detailing from an upcoming or newly released game. Therefore, please excuse its incomplete and informal current state. |
| | |
| --- | --- |
| | This page or some/one of its sections may require clean-up, or is in need of new information due to the release of an upcoming game. If you would like to help, try editing the page to fix any grammar mistakes or false information. |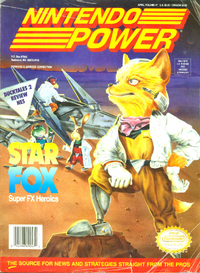 Nintendo Power was a monthly magazine currently published by Nintendo as a monthly news and strategy magazine initially published in-house by Nintendo of America, and later run independently. As of issue #222 (December 2007), Nintendo contracted publishing duties to Future US, the U.S. subsidiary of British publisher Future.
History
The first issue published was July/August 1988 spotlighting the NES game Super Mario Bros. 2. It was one of the longest-running video game magazines in the United States and Canada, and was Nintendo's official magazine in North America.
On August 21, 2012, Nintendo announced that they would not be renewing their licensing agreement with Future Publishing, and that Nintendo Power would cease publication in December 2012.
Star Fox contributions
They created strategic players guides and walkthroughs for Star Fox 64, Star Fox Adventures and Star Fox: Assault. A comic series based on the original Star Fox was also created.
Although not directly by Nintendo Power, a poster was released at PAX West 2017 for Star Fox 2 in promotion for the upcoming Super Nintendo Entertainment System Classic that was modeled after a Nintendo Power cover dating back to the time of the SNES era.