Database
Timeline of Lylat System
The
Timeline of Lylat System
has never been officially established by
Nintendo
, but by piecing together events in the official games, starting with
"Star Fox 64"
and currently ending with
"Star Fox Command"
, a tentative timeline can be created. Every event in the Star Fox series is centred around the events of Star Fox 64, where the named event takes place either
before the Lylat Wars (BLW)
or
after the Lylat Wars (ALW)
. Given that major character's ages have been given in supplement materials, the dates mentioned in the games are a way of determining their current ages; for example, Fox was 18 at the time of the Lylat Wars, making him between 29-30 at the time of the Anglar Blitz.
Many characters have a known age, provided in various supplement materials or even by in-game dialogue.
WarpStone
According to him, the WarpStone had been left to rest for at least 1000 years, making him the oldest known character in the series. In the original Dinosaur Planet game, there were two SwapStones, which were known to be millions of years old.

ShopKeeper
From his mumblings, the mysterious ShopKeeper has spent over 200 years in his business.

Drakor
In the original Dinosaur Planet game, Drakor is known to be 200 Dragon years of age.

Andross
The exact age of Andross is unknown, but he can be considered to be as old as General Pepper, or even older, judging by having a known grandson; Dash Bowman.
General Scales
In materials of the original Dinosaur Planet game, General Scales has an age of 50 years old, which would have made his birth around 42 BLW.

General Pepper
James McCloud
Peppy Hare
Pigma Dengar
Leon Powalski
Wolf O'Donnell
Katt Monroe
Falco Lombardi
Bill Grey
Fox McCloud
Slippy Toad
Andrew Oikonny
Krystal
In materials created for the original "Dinosaur Planet", Krystal's age is 16 years old. However, due to the drastic changes in the game's redevelopment into "Star Fox Adventures", her known age is listed as 19, which would make her 11 BLW -

Tricky
In the original Dinosaur Planet, Tricky's age is 9 years old. In the Star Fox timeline, this would make his birth only 1 BLW -

ROB 64
Although not alive,
ROB 64
was manufactured 3 BLW, as an essential component of the Great Fox which was ordered by James McCloud prior to his disappearance. ROB was only ready after the mothership had finished building.
Important events
"Millions of years ago, Titania was a thriving planet populated by an advanced agrarian civilisation. Interspersed between the farming communities were ornate cities of stone that the Titanians constructed using advanced engineering and architectural techniques. The centrepiece of ever town was its temple, where villagers would leave their harvests to appease the fearsome Goras. Now, two million years after an asteroid collided with Titania, the Goras is the only surviving creature roaming the planet. A far cry from the lush, green planet it once was, Titania has become a barren wasteland of deserts and dunes. Even the Goras is different- a direct result of Andross's biomechanics experimentation."
—Lylat Datalink, The Red Planet, pg 53
"The ancient civilisation of Aquas once stood above the waves on a series of islands admits the global ocean. There, people built great temples and made a living by harvesting sea life from the surrounding waters. But long ago, a monstrous entity known as Bacoon grew in the depths of the ocean, and it was jealous of the glorious civilisation on the land. Over many years, Bacoon grew powerful. It learned how to control the other aquatic lifeforms, like the explosive Starfish. When Bacoon commanded thousands of the Starfish to migrate to the ice cap and explode, the resulting heat melted the polar ice cap and all the islands were covered by the sea forever."
—Lylat Datalink; Mysteries in the Deep pg 86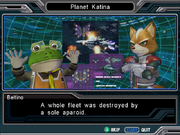 2,000,000 BLW - A meteorite collides with Titania, reducing its vegetation rich paradise to an arid desert. All native lifeforms became extinct.
8 BLW - A single Aparoid, presumably on a reconnaissance mission, manages to almost completely decimate an entire fleet of Cornerian ships.
7-5 BLW - Andross is apprehended by the Cornerian army and exiled to Venom for treason by General Pepper, following his acts of illegal experiments endangering the Cornerians.
Course the Lylat Wars
2 BLW - The events of Star Fox 64 occur. General Pepper, weary of strange activity coming from Venom, hires the original Star Fox team to investigate. Upon their arrival, Pigma Dengar betrays the team, leaving his teammates James McCloud and Peppy Hare in the captivity of Andross. Peppy, somehow escapes Venom and returns to Corneria to inform Fox about his father's fate.
0 BLW - Andross declares open war on Corneria and the Lylat System. Too overwhelmed to repel the opposition, a new Star Fox is contracted into service by General Pepper of the Cornerian Army to engage in combat and decisive tactics against the Venomian army. Their aid and support proves pivotal in turning the war around in favor of Corneria.
0 ALW - In the final assault on Venom towards the end of the war, Fox McCloud single-handedly confronts and kills Andross in his home base on Venom. Upon the self-destruction of the compound, Andross is presumed dead and his forces are then left in tatters. Corneria secures a decisive victory and the Lylat Wars end.
After the Lylat Wars
1-10 ALW - Vivian Hare dies from an "unknown sickness".
4 ALW - The events of the comic book interlude (Titania Conflict) occur. Falco regroups with his team of Hot Rodders after they intercept transmissions from the surviving Venomians. Star Fox and the Hot Rodders discover that Captain Shears, a traitor Cornerian army officer, is leading surviving Venomian soldiers to resurrect not Andross' bioweapons but Andross himself. Andross has become reborn, but Fox ultimately destroys him, and the cloning station that created him on Titania. By this time the Great Fox has fallen into disrepair. Falco temporarily leaves the team.
8 ALW - Cerinia is apparently doomed from an unspecified disaster and leaves a girl named Krystal as the only survivor. She hears a distress call from an ancient planet on the edge of the Lylat System and investigates in the belief she is drawing closer to the truth about her parent's deaths.
8 ALW - The events of Star Fox Adventures occur. Dinosaur Planet, also known as Sauria, is restored from its ruinous deterioration thanks to the efforts of the Star Fox Team. General Scales, who up until Star Fox's intrusion ruled as an oppressive dictator over all the other Dinosaur tribes, is ousted from power and possibly killed. A third and final living incarnation of Andross, resurrected through the means of Krazoa energies is killed. Fox encounters Krystal for the first time during this period. Falco rejoins the team.
8-9 ALW - Krystal joins the team, replacing Peppy as the fourth pilot.
9 ALW - The events of Star Fox: Assault occur. Andrew Oikonny's attempted insurgency against Corneria is thwarted upon his flagship being violently shot down by an Aparoid, and he is thought to have been killed (he survives). Pigma Dengar steals an Aparoid core and is eventually assimilated; he is presumably destroyed. The Star Wolf team resurfaces around this time and aids Star Fox in the conflict. The Great Fox is destroyed on the Aparoid homeworld. Team Star Fox is then successful in depositing a self-destruct program into the homeworld's core, which then completely neutralizes the Aparoid invasion, and kills all Aparoids and the queen.
11-12 ALW - The events of Star Fox Command occur. The Anglars invade the Lylat System, and Star Fox has disbanded. Each member must work together to defeat the threat. They ultimately kill the Anglar Emperor, and defeat the Anglars, and the team either rejoins, or splits up depending on the endings below.
After the Anglar Blitz (WARNING: Spoilers)
The Events of Ending I: Fox and Krystal
Unknown ALW - The Star Fox team, consisting of Fox, Falco, Slippy, Krystal, and R.O.B. 64 is reformed during the Anglar Blitz; they travel to Titania to recover a device developed by Andross, which would supposedly terraform Venom into a hospitable lush, green planet similar to Corneria. The Star Fox Team would then confront and successfully vanquish the Anglar threat, as well as succeed in initiating Venom's transformation. Shortly after the war, Slippy's fiancée, Amanda, joins the reunited team as a fifth pilot.
Unknown ALW - Dash Bowman arrives on Venom as its new regent, following its transformation, and rises to power. Venom eventually develops into a successful and influential empire under his guidance.
The Events of Ending II: Goodbye, Fox
Unknown ALW - Following The Anglars' defeat, the former members of the Star Fox team vote to formally disband. After this decision, Fox promises to quietly live out his life with Krystal.
Unknown ALW - Fox and Krystal McCloud are married.
Unknown ALW - A new Star Fox team is formed. (Known Members: Marcus, Falco, Slippy's son, and Peppy's granddaughter.)
The Events of Ending III: The Anglar Emperor
Unknown ALW - The Star Fox team, consisting of Fox, Falco, Slippy, Krystal, and R.O.B. 64 is reformed during the Anglar Blitz; they successfully vanquish the Anglar threat, and afterwards return to their lives together as a mercenary group.
Unknown ALW - Krystal confesses to Fox that she feels she can no longer be a member of Star Fox, rather, preferring to return to Panther's side as a member of Team Star Wolf. Leaving Fox utterly behind, she has no regrets about her decision. She goes on to become part of one of the toughest squadrons in Lylat.
The Events of Ending IV: Star Wolf Returns!
Unknown ALW - The Star Wolf team, consisting of Wolf, Leon, Panther, and Krystal confront and successfully vanquish the Anglar threat. They are heralded for this victory and are looked upon as heroic and courageous, except for Krystal who is denounced as a traitor to Star Fox.
Unknown ALW - The almost absolute revulsion of the general populace towards Krystal becomes too much for her, and she withdraws from the Star Wolf team to escape the enmity. She finds asylum and sufficient revenue in a distant galaxy, where she becomes a bounty hunter and assumes the alias "Kursed", in an effort to escape her past.
Unknown ALW - Krystal and Fox meet again on the planet Kew, though Fox does not recognize her.
The Events of Ending V: Lucy and Krystal
Unknown ALW - The pilots Krystal, Katt Monroe, Lucy Hare, and Amanda join together and vanquish the Anglar threat. Later, Lucy returns to visit with her father, and Krystal returns to Fox's side to rejoin team Star Fox.
The Events of Ending VI: Dash Makes a Choice
Unknown ALW - Dash Bowman joins up with Fox, Falco, and R.O.B. 64 to assist them during the Anglar Blitz; they travel to Titania to recover a device developed by Andross, which would supposedly terraform Venom into a hospitable lush, green planet similar to Corneria. The abbreviated Star Fox Team would then confront and successfully vanquish the Anglar threat, as well as succeed in initiating Venom's transformation. Dash Bowman stays behind on Venom as its new regent, and rises to power. Venom eventually develops into a successful and influential empire under his guidance.
Unknown ALW - Dash Bowman, now a great ruler of Venom, makes an inflammatory speech which indirectly leads to another war, in which the Lylat system is once again threatened by Venom and its emperor.
The Events of Ending VII: Slippy's Resolve
Unknown ALW - Slippy and Amanda remain behind on a newly freed Aquas and marry, leaving the others to resolve the Anglar Blitz without their former comrade's involvement.
Unknown ALW - Slippy and Amanda live out their lives together, happily married with many children. They grow old together, with Slippy relating tales of his Star Fox days to his offspring.
Unknown ALW - One of Slippy's sons possibly travels to go join up with a new Star Fox team headed by Marcus McCloud.
The Events of Ending VIII: Pigma's Revenge
Unknown ALW - Falco is accosted and detained by an incarnation of Pigma, preventing him from meeting up with the rest of Star Fox and Star Wolf in time to defeat the Anglars. He falls into a depression over his apparent uselessness.
Unknown ALW - Slippy and Amanda are married. Falco is absent from the ceremony.
Unknown ALW - Katt contacts Falco and urges him to rebound, and start his own mercenary Squadron, to which he surprisingly accedes.
Unknown ALW - At some point Falco and Katt locate a third pilot and form the Star Falco team, rivaling even Star Fox in its ability and notoriety. (Known Members: Falco, Katt, Dash, and possibly R.O.B. 64.)
The Events of Ending IX: The Curse of Pigma
Unknown ALW - Fox and Falco are accosted and detained by an incarnation of Pigma, preventing them from catching up with team Star Wolf in time to defeat the Anglars. The Star Wolf team, which consists of Wolf, Leon, Panther, and Krystal, go on to confront and successfully vanquish the Anglar threat. They are heralded for this victory and are looked upon as heroic and courageous. Fox slips into despondency, and with Falco withdraws to Papetoon.
Unknown ALW - Sometime after the end of the war, Falco convinces Fox to convert their Arwings into racing machines and enter into the G-Zero Grand Prix racing competition. They turn out to be a winning team, and they go on to become highly successful and popular as racers for years afterwards, ultimately forgetting their days as members of Star Fox.
Supplement Materials
A collection of references taken from supplement materials, such as strategy guides, websites and more.

Instruction Booklet
Background Story: Origin of the Lylatian Conflict
"The Lylat solar system, located near the center of the Milky Way galaxy, is made up of several bountiful planets. No fewer than three of these worlds were home to civilizations teeming with Industrious Inhabitants. The other planets in the system provided boundless natural resources. The comfortable lifestyle enjoyed by the Lylatians was the envy of the galaxy, until the coming of the Emperor Andross.
Emperor Andross was once known as Doctor Andross, a scientific genius who worked at an advanced lab on Corneria, the fourth planet in the Lylat system. Ever since his childhood, Andross's brilliance outshone that of other children. As an adult, Dr. Andross began developing a powerful engine based on hyper-spatial energy. Selfish and blinded by selfish ambition, he repeatedly conducted dangerous experiments in the heart of Corneria's most populated city. After many warnings from the planet's ruling council, he was finally banished from the planet for endangering the Inhabitants of Corneria.
Out of sight, out of mind. The Inhabitants of Corneria soon forgot the menace of "Dr. Andross". One day, however, Corneria's small defense force detected some unusual happenings on Venom, the first planet in the Lylat system. Strange unidentified flying objects were monitored manoeuvring above the planet in large numbers. it was not long before the self appointed Emperor Andross, who had fled to Venom, declared war on Corneria.
The planet Venom had been complete remade by Emperor Andorss into a gigantic military base. Andross hoped that with his military power, he could soon control all the plants in the Lylat system. General Pepper, the commanding officer of Corneria's defense force, decided to dispatch the super-high-performance combat ship ARWING to the defense of the planet, seven though it was in the prototype stage of development. Because of the urgency of the threat to Corneria, however, he did not have time to train pilots for these advanced fighters.
"We need the Star Fox Team!!"
This is the call sent out by General Pepper. You are Fox McCloud, leader of the Star Fox team, a group of adventurers with outstanding combat skill. Your mission is to penetrate the defenses of the planet Venom and defeat the forces led by Emperor Andross. Your ability to maneuver the ARWING fighter will make the difference between the return of peace to the Lylat system and the fall of Corneria to the evil Emperor. As a team leader, you are also responsible for the safe return of your Star Fox teammates."
—Star Fox; Instruction manual, pg 3
Planet V: Fortuna
"Fortuna is also known as the Dinosaur Planet and is prowled by untamed and brutal creatures. Andross has fed and gained control of these brutes and plans the turn them into living weapons. The giant dragon, Monarch Dodora, is the living spirit of this planet and has powers exceeding state-of-the-art weapons. His name is feared throughout the Lylat system."
—Star Fox 1993; Instruction Booklet
Planet IV: Corneria
"The fourth planet in the Lylat System, Corneria, is known as the "bread basket" of the system. It is a fertile farming world with a variety of climates and terrains. Most of the inhabitants live in the shelter of the mountain ranges, where the most productive farming soil can be found. Corneria is a peaceful planet with only the smallest defense forces. Most of its starships are designed for exploration and transportation. When Andross's invasion fleet threatened the planet, it was up to General Pepper to improvise some kind of planetary defense. He hired the Star Fox Team to pilot the experimental Arwing Fighters."
—Star Fox 1993 Instruction Booklet
Planet III: Macbeth
"Macbeth has a long history of geological disasters which have changed its very shape. In a unique geological occurrence, the core of the planet shrank while the crust remained the same size, making much of the planet hollow. Andross has used this to his advantage, stockpiling the world with weapons, ammunition and spare ships. As a result of the amount of weaponry storewide there, the planet is a gigantic bomb waiting to explode."
—Star Fox 1993; Instruction Booklet
Planet II: Titania
"Titania has no indigenous creatures and is nearly always wrapped in a dense fog. This planet is known as a treasure world because of the large deposits of raw minerals that can be found there. While it has not been as hard hit by Andross's invasion fleet as some planets have, it is occupied by a large garrison of his troops. The resources here are extremely valuable to Andross's plans of future conquest."
—Star Fox 1993; Instruction Booklet
Planet I: Venom
"When Andross was driven out of Corneria by Director General Pepper, he occupied this planet as his base. While it used to be known as the "evergreen planet", and boasted beauty second only to Corneria's, Andross has re-made it into a dark, polluted world of military machines. The natives, who were not advanced, were enslaved by Andross, and drafters into his military machine. Though they serve Andross, they can inwardly hope that the forces of Corneria can win a victory and liberate the Lylat system."
—Star Fox 1993; Instruction Booklet
The Arwing's Arsenal
Blaster
"This Laser Cannon, eqipped in the nose of the Arwing, fires a powerful laser beam."
—Star Fox 1993; Instruction Booklet, pg 13
Twin Blaster
"By collecting the Twin Blaster item, you can fire two laser beam Blasters simultaneously, one from each wing. When one ore both of your wings are destroyed, you will revert back to a single Blaster firing out of your ship's nose."
—Star Fox 1993; Instruction Booklet, pg 13
Nova Bomb
"This will damage all the enemies that are within range of the explosion. While it is powerful enough to destroy some enemies, very strong ones will be only damaged by this weapon. You can carry up to five of these bombs, which are obtained by collecting Nova Bomb items."
—Star Fox 1993; Instruction Booklet, pg 13
Power Shield
"This powerful defensive shield can be obtained by taking a Shield Item. While the Power Shield is active, your ship will become transparent (wire frame) and will not take damage from enemy attacks or collisions. After you have suffered a certain number of attacks or collided with a certain number of objects, the Power Shield will wear off and your ship will return to its original form and take normal damage."
—Star Fox 1993; Instruction Booklet, pg 13
Damage
"The amount of damage that is subtracted from your damage meter depend on what part of your ship is hit (or damaged in collision with an obstacle). For example, if only your wing undergoes a shock, the damage to your shield meter will only be half what it would be if the body of your ship were hit. If the damage goes beyond the tolerance of your wing, the wing will be destroyed. You should pay attention to your shield meter at all times."
—Star Fox 1993; Instruction Booklet, pg 14
Recovery From Damage
"Your shield meter will refill whenever you complete a stage. Certain items will also help you recover from damage. If your wing is only damaged, it will be repaired when the body of your ship is repaired. Once your wing is completely broken, you will be stuck in that condition even if your shield meter is refilled by items. The only way to repair a destroyed wing is to collect a Wing Gyro."
—Star Fox 1993; Instruction Booklet, pg 14
Star Fox Original Soundtrack CD Content
"The Lylat system.....The planet group which take a position in almost center of the vast galaxy. All the creatures in here were living in blessed environment as envy as other around stars, and enjoying the current of the comfortably times... Before he came into existence..."
—CD front cover
The Star Fox Original Soundtrack was a CD released in 1994, a year after "Star Fox". It contained tracks from each level in the game.
Ultra high performance fighter Arwing Data
Dimensions
OVERALL LENGTH: 28sm
OVERALL WIDTH: 14sm
OVERALL HEIGHT: 5.5sm
WEIGHT: 12st (st= SPEACE TON/sm-SPEACE METER)
MACHINE mtr: SPEACE DYNAMICS CO., LTD.
MODIFY: CORNERIA AIR FORCE
ENGINE
TYPE: PLASMA ENGINE NTD-FX1
MAX POWER (net): 50,000,000SPW
MAX SPEED: M4.2 (IN ATMOSPHERE)
STABLIZER: G-DIFFUSER SYSTEM
CONTROL ELECTRONICS: STG - AMG200
ARMS:
BLASTER CANNONx3 (FRONTx1 / WINGx2)
SMART BOMB (MAX: 5 PEICE)
Employed Guerrilla Unit "Star Fox" Personal Data
FOX McLOUD
SEX: MEN
AGE: 25
HEIGHT: 152cm
WEIGHT: 46kg
FALCO LAMBARDI
SEX: MEN
AGE: 28
HEIGHT: 175cm
WEIGHT: 51kg
PEPPY HARE
SEX: MEN
AGE: 36
HEIGHT: 143cm
WEIGHT: 54kg
SLIPPY TOAD
SEX: MEN
AGE: 19
HEIGHT: 113cm
WEIGHT: 46kg
Notes
The character stats are changed in later materials, indicating this instance as a one-off or reflects the debatable changes in continuity.
The words "Space", "McCloud", "Lombardi", are misspelled in most if not all cases on the written leaflets as "Speace","Mcloud"and "Lambardi" respectively.

Star Fox 64 Site
The Official Star Fox 64 site contains interesting info on the then upcoming N64 game that we all know well and dear. The info is generally full of excerpts from the Nintendo Power Strategy Guide, like General Pepper's Flight Log and Astronomical Readings, but the website even contains details that are not even present in the guide, like Slippy having to use Arwing scrap metal and spare parts to build the Blue-Marine, Solar is an actual planet and not a sun, as well as giving us an idea that just about every enemy in the game is a follower of Andross, wether they are loyal soldiers in his army, bio-tech monstrosities or automated drones.
It is worth noting that the site does contain some errors; being the incorrect flight paths on occasion, and the site uses the incorrect identification of the snowy planet Fichina as Fortuna, which is corrected in later games, we at Arwingpedia made changes to the errors/details to be more traditional.
Game Statistics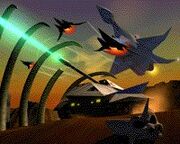 The Star Fox 64 Game
"Now you can see, hear and feel the power of the Nintendo 64! This masterpiece from Shigeru Miyamoto will launch you into a futuristic world of space combat like you've never experienced before. Combine great real-time 3-D game play with the innovative Rumble Pak Controller Accessory (available separately), and you'll be immersed in the interplanetary struggles of the Star Fox Team. And now it's available at the low Player's Choice price of $39.95!
Graphically, Star Fox 64 takes full advantage of the power of the Nintendo 64 to produce realistic, 3-D environments full of alien adversaries. Skim over the surface of an alien sea, weave through the concrete canyons of a futuristic metropolis, or dodge planetoids the size of mountains. Between missions, you'll be treated to real-time 3-D movies that progress the story of the Star Fox Team of space mercenaries in their struggle against the evil ape emperor, Andross. The seamless transitions from action to story give Star Fox 64 a truly unique, cinematic feel.
Equipped with the Rumble Pak, the Nintendo 64 Controller becomes a new implement for fun. Not only does the Rumble Pak provide force-feedback in response to the game action, the Controller's analog Control Stick gives you total, precise control of your vehicle, be it a sleek "Arwing" starfighter, an armored "Landmaster" tank, or the deep-diving "Blue-Marine" submersible.
The game's fifteen missions link together in a number of possible paths to your final objective: a show-down on Venom, the home planet of the interplanetary tyrant, Andross. Throughout your adventure, you'll have to accomplish challenging objectives in order to reach and conquer every mission. There are two different mission modes in the game; 3-D scroll and all-range. A 3-D scroll mission thrusts you forward into the conflict, and requires intense, split-second reactions. Multiple paths are possible through these scrolling missions, depending on the choices you make. All-range mode missions enable you to maneuver in full 360-degrees, and to put your Arwing through radical combat maneuvers like loop-the-loops and high energy turns.
Star Fox 64's sound effects and music add to the cinematic feel of the game. Over 700 voice samples allow for almost constant radio chatter between Fox McCloud and his wingmen. Enemy characters will also get in on the act, taunting you as you oppose them.
In addition to the adventure of the Main Game, Star Fox 64 includes a Training mode to help new pilots learn the ropes, and VS. mode that lets you take on one to three friends in a free-for-all multi-player battle royale. Star Fox 64 is the ultimate video game space combat adventure, and it's only available on Nintendo 64.
Game Data:
MSRP $39.95*
Cartridge Configuration: 96-megabit
*Note: Although Nintendo of America Inc. may suggest retail prices for products, the dealer is free to determine on its own the prices at which it will sell products."
—Star Fox 64.com
Sound Downloads
"One of the most impressive features of Star Fox 64 is the real-time cockpit transmissions during the game. This type of immediate sound data response is possible only with the super-fast data transmission speeds of the Nintendo 64's cartridge system. Altogether, there are hundreds of voice samples in Star Fox 64; we've taken our favorites and made them available as WAV files for your enjoyment. You can use your browser's Save function to save them to your computer. Some browsers allow you to right-click the link, then select a 'Save Link As' option - this is one of the easiest ways to download sound files."
—Star Fox 64.com
VS. Mode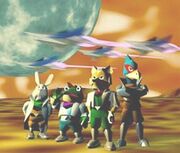 "Star Fox 64's multi-player mode allows two to four players to dogfight in three different modes and arenas. The screen is always split into quadrants, with the unused quadrants (in the case of a two or three player game) displaying dramatic camera angles of the battle.
The three different modes each offers a different challenge. In Point Match, the first player to amass a certain number of kills (the goal can be set from 1 to 5) wins. Battle Royale mode is a fight to the finish, where the last animal standing wins. Finally, Time Trial challenges you to shoot down more drones than the other players in a certain amount of time (1 to 5 minutes). If you shoot down another player, you will reset their score.
Point Match and Battle Royale can be fought in the skies of Corneria or in the hydrogen clouds of Sector Z. Time Trial takes place on Katina or Sector Z. When you play in VS. Mode, you'll usually only have access to the Arwing fighter as your vehicle. However, if you get medals in every mission, you will be able to play the game in Expert Mode, and this will allow you to use Landmaster tanks in VS. Mode. Once you earn medals in every mission playing in Expert Mode, you will be able to use Rocket Launchers in VS. Mode. In order to earn the medals, you must destroy a certain number of enemies in each stage while keeping your wingmen alive through the mission.
In each battle mode game, a single Twin Laser power-up and Bomb will appear at random in the arena. The player with the Twin Lasers has a huge firepower advantage over the other players, so be sure to head straight for the power-up when it appears. Likewise, a well placed Bomb will really put the hurt on your opponent's shield. There are many strategies in the multi-player games and each one plays differently. The VS. Mode is a great feature that really complements the Main Game of Star Fox 64."
—Star Fox 64.com
Rumble Pak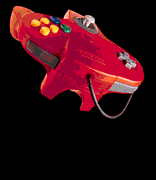 "Star Fox 64 supports the Rumble Pak Controller Accessory, a revolutionary force-feedback device that plugs into the Nintendo 64 Controller. Once installed, the Rumble Pak will vibrate in response to specific events that occur during the game. The varying vibrations draw the player into the game by providing additional information about the game conditions. For example, if you're getting pegged from behind by enemy fire, the Rumble Pak will shake to let you know! There are several different vibration levels, from the gentle rumble triggered when you hit the booster rockets to the fierce shaking that simulates the buffeting effect of a cataclysmic explosion."
—Star Fox 64.com
Degrees Of Rumble
"Fire your booster rockets...
... and the Rumble Pak gives a slight jiggle.
Take a hit from enemy fire...
... and the Rumble Pak shakes more.
Destroy one of Andross's lieutenants...
... and the Rumble Pak almost leaps out of your hands!"
—Star Fox 64.com
Rumble Pak Technical Data
"The Rumble Pak contains a small motor, powered by two AAA batteries, that spins to send vibrations to the player's N64 Controller. Modulation of the motor allows for a nearly infinite variety of vibration levels for different effects. The Rumble Pak is compatible with selected Nintendo and third party games, including GoldenEye 007. The Rumble Pak can be purchased at retail stores. It can also be ordered directly from Nintendo by calling Nintendo of America Consumer Service at 1-800-255-3700 (in North America only) or accessing Nintendo Power Source's Online Store. The MSRP is $19.95."
—Star Fox 64.com
Strategy Guide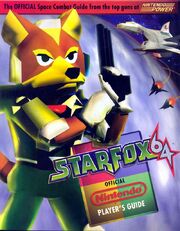 "Looking for a flight manual for the ultimate space adventure, Star Fox 64? NintendoPower magazine has assembled all the best tips, tactics, maps and secrets into onecomprehensive game briefing in the Official Star Fox 64 Player's Guide. This 128-pagefull-color Player's Guide will help you go boldly where no Fox has gone before. You'lllearn all the top secret intelligence on how to get the highest scores, win the medals,get the best endings, find all the hidden routes to Venom, and where all the mysteriousworm holes are located. Along with all this great game play information, the Player'sGuide contains exclusive interviews with the game's creators, and behind the scenescharacter information you can't get anywhere else.
The Official Star Fox 64 Player's Guide, available after June 30th, can be purchased wherever fine video games are sold, or can be ordered directly from Nintendo of America by calling 1-800-255-3700 (North America only).
StarFox64.com will continue to present excerpts from the Player's Guide, but if youwant all the tips and tactics now, in one convenient, portable source, get the guide!"
—Star Fox 64.com
Star Fox Team
Fox McCloud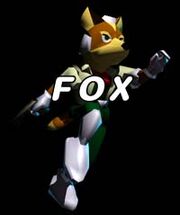 "Fox McCloud was a cadet at the Cornerian Defense Army Academy when he heard the news that his father, James McCloud, had met a violent end at the hands of the twisted genius, Andross. The senior McCloud had been betrayed by his own wingman, Pigma Dengar, and delivered into a deadly trap from which there was seemingly no escape. Only James's wingman, Peppy Hare, managed to limp home in his badly damaged starfighter. As the only survivor of the original Star Fox Team, Peppy insisted that the young Fox take on the leadership of the group and form a new team of pilots. Thrust into the leadership role that he wasn't prepared for, Fox recruited the hot-tempered Falco Lombardi and the mechanical genius Slippy Toad to make up the new Star Fox Team. For a price, this crack group will fight against any threat to the Cornerian star system. Although it may appear that the Star Fox Team is motivated only by financial gain, it will only accept missions that serve to uphold justice."
—Star Fox 64.com
Game Data
"When you play Star Fox 64, you take the role of Fox McCloud, and with it all the responsibility for leading other team members into battle and keeping them safe from harm. Protecting your friends from enemy attack will make your mission easier because each teammate has a special ability that can help you out."
—Star Fox 64.com
Vital Stats
Age: 18
Height: 1.73 SM
Weight: 70.31 SK
Falco Lombardi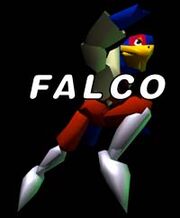 "The Star Fox Team's avian member, Falco, is at home in the air or in space, and pilots his Arwing fighter like a true virtuoso. Falco may sometimes act hostile, but he's a good friend of Fox and most of his insults are meant to be good-natured ribbing. A lot of Falco's rebellious tendencies come from his time as a member of a group of "space hot-rodders." If he could curb his reckless tendencies and quick temper, he could mature into a better pilot than Fox."
—Star Fox 64.com
Game Data
"Falco is an aggressive fighter who will help you knock out enemies if he is flying as your wingman. He's also always looking for shortcuts and alternate routes to get to the action quicker, so if he tells you to follow him, go for it!"
—Star Fox 64.com
Vital Stats
Age: 19
Height: 1.88 SM
Weight: 74.84 SK
Peppy Hare
"A long time friend of Fox's father, Peppy Hare is the senior member of the Star Fox Team. An experienced pilot, he has learned many tricks in his years of flying, and is also very knowledgeable about Andross's forces, since he once had to escape captivity at their hands. Even though Peppy is older than all the other Star Fox Team members, he declined the leadership role and insisted that the younger Fox McCloud take over the team after Fox's father, James McCloud, was slain by Andross."
—Star Fox 64.com
Game Data
"Peppy will give you constant hints and advice as he flies with you, and he always has a suggestion on how to defeat Andross's toughest lieutenants."
—Star Fox 64.com
Vital Stats
Age: 41
Height: 1.70 SM
Weight: 71.03 SK
Slippy Toad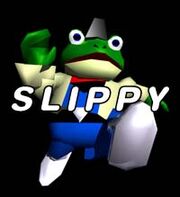 "The excitable amphibian member of the Star Fox Team, Slippy may seem like a hyper-doofus, but he has excellent mechanical know-how. Slippy specialized in engineering at the Cornerian Academy, and learned a lot from his father, Beltino Toad, who is Director of Engineering at Space Dynamics Co. Ltd. As a member of the Star Fox Team, Slippy has invented a wide variety of gadgets and vehicles."
—Star Fox 64.com
Game Data
"Slippy's "Bossometer" can detect the life force of Andross's powerful lieutenants, and his Blue Marine battle submersible will allow the Star Fox team to venture into the depths of the water world, Aquas."
—Game Data
Vital Stats
Age: 18
Height: 1.67 SM
Weight: 63.50 SK
Enemies
Andross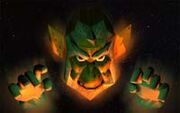 "Exiled to the distant penal planet of Venom for his destructive and dangerous experiments with bio-technology, the mad scientist Andross has recently resurfaced as the supreme commander of a seemingly unstoppable military force. Striking without warning, his invasion fleets have overrun the minimal defenses outposts of the many planets in the Lylat system, and are even now attacking the most populous world in the system, Corneria. As a scientist on Corneria, Andross specialized in bio-technology and space warps. It is theorized that exposure to his own deadly experiments may have driven him mad. In the time since his exile, who knows how his continued experimental work may have affected him?"
—Star Fox 64.com
Star Wolf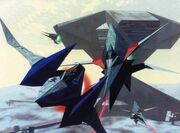 "Funded and equipped by Andross, the Star Wolf team is a group of elite evil pilots who defend the key routs to Venom. The Star Wolf team is lead by Wolf O'Donnel, a vicious pilot who seems to be trying to prove that he is as good a pilot as Fox McCloud. Other members include the traitorous Pigma Dengar, who led Fox's father James McCloud into Andross's clutches; Leon Powalski, a mysterious reptilian pilot who likes to make his opponents suffer before he destroys them, and Andrew Oikonny, whining nephew of Andross. The Star Wolf team always flies the most advanced version of Andross's "Wolfen" class starfighters. These starfighter prototypes may even be superior to the Star Fox team's Arwings…."
—Star Fox 64.com
Lieutenants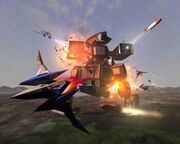 "Andross's evil ambition has served as a magnet to attract the scum of the Lylat system into his service. The most powerful and intelligent of his followers have been promoted to positions of leadership in Andross's military machine, and have been given command of specialized war machines of great power. Andross has dispatched these key lieutenants to seize strategic locations throughout the Lylat system. The machines they control come in a variety of shapes and sizes, and are always accompanied by fleets of support craft. The Star Fox team will face a different lieutenant at the end of each mission. Some mission paths will lead to encounters with different lieutenants."
—Star Fox 64.com
Minions
"Andross's legions of minions have been mustered from sources throughout the Lylat system. From bio-tech enhanced monsters from the abysses of Aquas to mechanized starfighters assembled in Macbeth's weapons labs, Andross's minions have one thing in common: they are expendable. Each fighter pilot is expected to willingly give his life for the emperor; each robot is programmed to destroy or be destroyed, and each mindless bio-tech drone has been conditioned to think only one thought -- Destroy Star Fox!"
—Star Fox 64.com
Vehicles
Arwing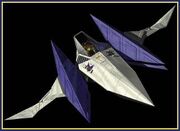 LENGTH: 28 SM
HEIGHT: 5.5 SM
MAX SPEED: M 4.2 (in atmosphere)
ENGINE: NTD-FX1 plasma engine with G-Diffuser
CREW: 1
ARMAMENT: T&B-H1 laser cannon and Smart Bomb launcher
"The Arwing starfighter is the primary battle vehicle of the Star Fox Team, and is the almost the symbol of their team. Developed by Space Dynamics Co., Ltd., the Arwing is equipped with the revolutionary G-Diffuser system, an anti-gravity device which allows the pilot to accelerate or decelerate instantaneously and perform a wide variety of high performance combat maneuvers. By executing a barrel roll, the Arwing can also generate a electromagnetic shield which will deflect most optically based weapons, such as laser beams. The Arwings used by the Star Fox Team are much different from any production versions as they have been extensively modified with improved armor and advanced weapon systems, such as Hyper Laser Homing Bolts and Smart Bombs."
—Star Fox 64.com
Game Data
Control Stick: Maneuvers Ship Z Button: Roll ship to the left (tap twice to barrel roll) R Button: Roll ship to the right (tap twice to barrel roll) A Button: Fire Hyper Laser (hold A to lock on to enemy, press again to fire Homing Laser) B Button: Fire Smart Bomb (press again to detonate) Up C Button: Change view from chase to cockpit Left C Button: Turbo Boost Right C Button: Respond to ROB64's message Down C Button: Brake
Landmaster
LENGTH: 24 SM
HEIGHT: 8.5 SM
MAX SPEED: 207 SKM/H (using booster)
ARMOR: Front / Rear .65 SM, Side .45 SM
CREW: 1
ARMAMENT: T&B-J2 laser cannon and Smart Bomb launcher
"The Landmaster tank was originally being developed by Space Dynamics Co., Ltd. as an armored exploration vehicle. However, when the Star Fox Team required a land based combat vehicle, it was converted by adding stronger battle armor and weapons systems. The only prototype is now part of the Star Fox Team's arsenal. Although primarily a ground based assault weapon, the Landmaster can also hover for a short time, and can roll from side to side to help it avoid land mines and enemy attacks."
—Star Fox 64.com
Game Data
Control Stick: Steers Tank Z Button: Roll tank to the left (tap twice to roll over) R Button: Roll tank to the right (tap twice to roll over) A Button: Fire Laser Cannon (hold A to lock on to enemy, press again to fire Homing Laser) B Button: Fire Smart Bomb (press again to detonate) Left C Button: Nitro Boost Right C Button: Respond to ROB64's message Down C Button: Brake
Blue-Marine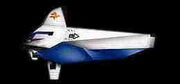 LENGTH: 30.5 SM
HEIGHT: 7 SM
MAX SPEED: 116 Skt (using booster)
MAX DIVE: 2,000 SM
CREW: 4
ARMAMENT: Modified T&B-U3 laser cannon and torpedo launcher
"The mechanical genius of the Star Fox Team, Slippy Toad, kitbashed the Blue-Marine out of spare parts and scrap metal. Although originally intended as a recreational vehicle, it was pressed into service when the Star Fox Team was called to action on the water world of Aquas. Since some of its parts originally came from Arwings, the Blue-Marine shares some characteristics with the star fighter. For example, it has a similar laser cannon, and by rolling it can generate an electromagnetic force field. It is a testament to Slippy's engineering skill that the Blue-Marine could be made battle-worthy on such short notice. The submersible has one weakness, and this is the fact that its visual sensors were not designed to work in the darkness of great depths; it was instead designed to use sonar. Therefore, in order to see clearly in the murky abyss, the Blue-Marine must use "Light Bomb" torpedoes, of which it has an unlimited supply."
—Star Fox 64.com
Game Data
Control Stick: Steers Sub Z Button: Roll sub to the left (tap twice to barrel roll) R Button: Roll sub to the right (tap twice to barrel roll) A Button: Fire Laser Cannon B Button: Fire Homing "Light Bomb" Torpedo Left C Button: Thruster Boost Right C Button: Respond to ROB64's message Down C Button: Brake
Great Fox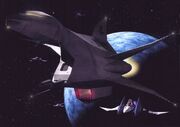 LENGTH: 890 SM
HEIGHT: 375 SM
MAX SPEED: M 1.4 (in atmosphere)
ENGINES: NTD-FX9 plasma engine (x3)
CREW: 5
ARMAMENT: T&B-H9 hyper laser cannons (x2)
"Great Fox is the Star Fox Team's mother ship. It is equipped with plasma engines that give it the capability to warp between planets. In addition, the ship is streamlined for atmospheric re-entry, making it capable of landing the Landmaster or Blue-Marine if necessary. Great Fox is stocked with all manner of supplies for the Star Fox Team, including food, clothing and replacement parts. In fact, Great Fox is the mobile home of the Star Fox Team. The late James McCloud contracted Space Dynamics Co., Ltd., to build Great Fox, and took out an 80 year loan to pay for its construction. The Star Fox Team is still using the prize money from their mercenary mission to repay this loan. ROB64, the robotic pilot of Great Fox, is wired directly into the ship's controls. Even though Great Fox rarely participates in the Star Fox Team's missions, it is a very important asset for the team."
—Star Fox 64.com
Game Data
"At certain points of each mission, you will receive a transmission from Great Fox. If you acknowledge this transmission (by pressing the Right C Button) ROB64 will send a Supply Container which will contain helpful items like extra Smart Bombs."
—Star Fox 64.com
Missions
Corneria
Planetary Data
Radius 6,464 km
Albedo .37
Gravity 1.000
Esc Velocity 12.10 km/s
Equilibrium K 279
Atmosphere N277 + O221
Hydrographics 75%
Biomass 2,870 Quads
Class H
Planetary Compendium
"The temperate world of Corneria is known as the jewel of the Lylat system. Although the planet is home to 85% of the Lylat system's population, its industry and cities are built in harmony with nature. Corneria is the center of government, culture and politics for the Lylat system."
—Star Fox 64.com
Mission Briefing
"The Star Fox Team faces their first test on their home world of Corneria, where the military situation is deteriorating in the wake of Andross's assault. Andross's advance forces have breached the planet's defenses at several points and are assaulting the capital city! Although the Cornerian Defense Forces have held on for as long as possible, General Pepper finally has to call on the Star Fox Team for help. The main thrust of Andross's attack on Corneria is centered around the old army base in Corneria City. Approaching the city through the southern canyon will give the team the element of surprise. As the Star Fox Team's fighters move to destroy enemy fighters and ground forces, they'll have to be on the look out for falling rubble from the city's buildings, and for berserk construction robots!
Intelligence: After the checkpoint, three enemy ships will chase Falco. Destroy these three ships, and then fly through all of the arches ahead. Falco will lead you to an alternate path through the mission which will take you to a different lieutenant, and to Sector Y."
—Star Fox 64.com
Medal Score: 150 hits 
Checkpoint Goal: 70 hits 
"There are tricks to getting enough enemies to appear to get a medal in this stage. Try flying between the buildings and under arches since this will sometimes make additional enemies appear. In general, in order to earn a medal you will need to use the charged lasers to destroy clusters of enemies with one shot. Also, make sure your wingmen survive the mission! Falco will be attacked immediately after the checkpoint-- be sure to shoot down his pursuers."
—Star Fox 64.com
Meteo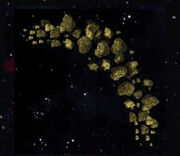 Astronomic Data
Number of Objects 1.32e6
Average Albedo .004
Average Radius 20km
Mission Briefing
"Cornerian probes have picked up enemy activity in the Meteo planetoid system. Andross has built a planetoid crusher to clear a way through the belt for his invasion fleet. If this natural defensive barrier is penetrated, Corneria will be open to attack by Andross's battleships. Pilots will need to keep a sharp eye on the floating planetoids as they fly through the system. The movement of these gigantic boulders is usually predictable, but if any of those rocks collide, it could send them careening off in wild directions. Scientific expeditions to the belt have scanned some unusual warp energy readings in the sector. These warp emissions cannot be ignored since they may be part of Andross's attack plan.
Intelligence - Finding the source of the warp emissions will take you to another dimension, where you can rack up some more points and score some bonus items!"
—Star Fox 64.com
Medal Score: 200 hits
Checkpoint Goal: 90 hits
"The best way to get the medal in Meteo is to take the warp to Katina. To enter the warp, fly through the six warp gates to enter the warp zone. You will pick up speed after you go through each warp gate, so you will need to anticipate the positions of the warp gates and react quickly. The warp is filled with enemies and power-up items. Use bombs liberally because you can easily collect more in the warp area. When you reach clusters of items, do a loop to collect as many as possible."
—Star Fox 64.com
Sector Y
Astronomical Data
"A great cloud of space dust has formed in the shape of the letter Y in this Sector. As in Sector X, there is strange radiation and magnetic waves in this area, but the fluctuations are not as severe. Casual travel through the area is still not recommended."
—Star Fox 64.com
Mission Briefing
"Corneria's main battle fleet has suffered severe losses in Sector Y! A huge space battle has left our flagship crippled-- or perhaps worse. Debriefed survivors have told tales of a new attack squadron of gigantic, humanoid battle suits in the area. Although it may be too late to rescue the Cornerian fleet from disaster, the Star Fox Team must storm the area and knock out these new iron soldiers of Andross! Their shields will deflect anything but a direct laser hit, so aim carefully! These giant robots are, of course, accompanied by the usual screen of highly maneuverable starfighters.
Intelligence - Shoot down 100 enemies to continue on to Aquas."
—Star Fox 64.com
Medal Score: 150 hits
Checkpoint Goal: 65 hits
"The fighters in this mission will usually attack in formation. Lock on and blast them. There are two places where the course forks. In both cases, take the upper path since you can get a few extra enemies that way. Defeat the final lieutenants as quickly as possible for more bonus hits. It's easy to keep up with them by using the high energy turn (down on the Control Stick plus Down C)."
—Star Fox 64.com
Fichina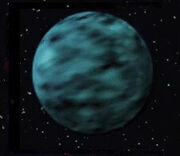 Planetary Data
Radius: 3,277 km
Albedo: .55
Gravity: .367
Esc Velocity: 4.99 km/s
Equilibrium: K220
Atmosphere: N267 + O223
Hydrographics: 53%
Biomass: 270 Quads
Class: I
Planetary Compendium
"Fortuna, an icy world devoid of vegetation, is home to only a few members of the Cornerian Defense Force and a team of scientists. Because of the large amount of frozen water on the planet, it is an ideal candidate for terra forming, and there is some thought that it might be possible to convert it into a garden world, much like Corneria."
—Star Fox 64.com
Mission Briefing
"The Cornerian base on Fichina has been overrun by Andross's forces. The Star Fox Team must liberate it from their clutches before Andross has a chance to use the top secret information stored there for his own evil ends! Go to Fichina and scout out the base, but be on the lookout for enemy fighters. Your old rivals, the Star Wolf team of space pirates, is also rumored to be in the area, so watch your six!
Intelligence -  Defeat the Star Wolf team before the sabotage bomb in the base explodes, and you'll take the path to Solar."
—Star Fox 64.com
Medal Score: 50 hits
"Lock on and vaporize enemies as much as possible in this mission. You'll want to take care that the Star Wolf team doesn't shoot down any of your wingmen if you're going for a medal. Each of the Star Wolf team members is worth 10 hit points when you shoot them down, so you don't need to worry too much about shooting down a lot of drones."
—Star Fox 64.com
Note
The site does use the name Fortuna instead of Fichina, but we at Arwingpedia changed it over to be traditional and avoid confusion.
Katina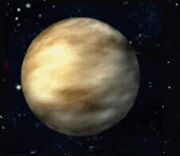 Planetary Data
Radius: 4,893 km
Albedo .32
Gravity: .85
Esc Velocity: 9.45 km/s
Equilibrium K: 281
Atmosphere: N280 + O217
Hydrographics: 8%
Biomass: 676 Quads
Class: D
Planetary Compendium
"Although Katina has less water than Corneria, the climate and environment are quite similar. The planet was originally intended to be a primary colony for Corneria, but Andross's attack has halted immigration. The beleaguered Cornerian Defense Force is now nearly exhausted from holding back wave after wave of enemy fighters."
—Star Fox 64.com
Mission Briefing
"Katina is one of Corneria's front line defense posts, and it's being overrun by Andross's fighters. A distress call was received from Fox McCloud's academy classmates, Bill Gray, who is in command of Husky Squadron. Apparently there are hundreds of fighters swarming over the base! Bill has also informed Cornerian Command that an enemy mother ship has been detected on its way to the planet. Husky Squadron will need the Star Fox Team's help to deal with this gigantic threat. Bill will brief you more fully on the gargantuan mother ship when you get there, so listen to him carefully!
Intelligence -  When Bill says "The Hatches are open!" that's your cue to attack the hatches on the underside of the mother ship. Destroy the mother ship to continue on to Solar."
—Star Fox 64.com
Medal Score: 150 hits
"Try to shoot down as many enemy ships as you can before the mother ship arrives. Although you won't get points for them, shooting down ships from the Bulldog squadron won't affect your chances of getting a medal. When the mother ship arrives, destroy the hatches but leave the core until the last possible second. Spend as much time as you can destroying enemy fighters. Lock on to enemy targets as much as possible because you can get bonus hits that way. Even though it seems like there are many targets here, this can be a difficult mission to earn a medal in."
—Star Fox 64.com
Aquas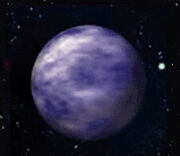 Planetary Data
Radius: 5,789 km
Albedo: .45
Gravity: .873
Esc Velocity: 11.23 km/s
Equilibrium K: 280
Atmosphere: N276 + O223
Hydrographics: 97%
Biomass: 2,545 Quads
Class: W
Planetary Compendium
"The entire surface of Aquas is covered with water. Normally the ocean teems with life but the predations of Andross's forces have done severe damage to the planet's ecosystem. Undersea ruins similar to those found on Titania indicate that Aquas was once inhabited by intelligent beings."
—Star Fox 64.com
Mission Briefing
"Andross is using bio-engineering techniques to mutate the sea creatures of Aquas into deadly weapons. However, because of the rapidly spreading pollution in the planet's ocean, Cornerian Intelligence has been unable to determine exactly what is happening on the planet. Slippy's Blue-Marine experimental battle submersible is the only craft that can descend to the depths and discover what Andross is up to on Aquas.
Intelligence - Fire Light Bomb Torpedoes to light your way through the murky depths of Aquas."
—Star Fox 64.com
Medal Score: 150 hits
Checkpoint Goal: 65 hits
"Shoot, fire torpedoes and barrel roll simultaneously for best results in the seas of Aquas. To make sure you destroy as many enemies as possible, use the brake to hold back and get them all! The underwater canyon just before the final lieutenant is a particularly target rich environment full of shrimp mutants and starfish. Be sure to destroy the huge barnacles on top of Bacoon's shell as these are worth 12 hit points."
—Star Fox 64.com
Sector X
Astronomic Data
"Sector X is one of three mysterious zones of space in the Lylat system where luminous space dust has formed a nebula that appears in the shape of a giant letter. Scientists are sure these formations are not natural, but so far no one has explained the phenomena. Sector X has many strange magnetic currents flowing through it that make travel there extremely hazardous."
—Star Fox 64.com
Mission Briefing
"Cornerian spies have reported that Andross was developing a star base in Sector X, but our remote sensors now only detect a huge field of space debris. It is unclear if Andross's base construction project has been destroyed by some kind of accident, or if this is part of his plan. It could also be a trap... Our scientists have also detected unusual "worm hole" radiation in the sector. The Star Fox Team must explore the Sector and find out what happened to Andross's construction project, and determine if the worm hole is part of his invasion plan.
Intelligence - Defeat HVC-09 before you lose Slippy, and you'll continue on to Macbeth instead of Titania."
—Star Fox 64.com
Medal Score: 150 hits
Checkpoint Goal: 90 hits
"At the beginning of the mission, you'll encounter waves of enemy fighters. Save up bombs for this mission and let em have it. After the Checkpoint, the course will fork to the left and right. Take the right path since there are more enemies that way. Later in the mission, you'll have to make your bombs count. Lock on to an enemy and wait until he approaches a squadron of others so you can blast them all with the bomb."
—Star Fox 64.com
Note
The intelligence report accidentally refers to Solar being the next location instead of Macbeth, but we at Arwingpedia changed it to avoid confusion and be more traditional.
Solar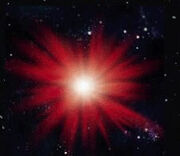 Planetary Data
Radius: 6,153 km
Albedo: .6
Gravity: .912
'Esc Velocity: 10.77 km/s
Equilibrium K: 750
Atmosphere : N210 + CO289
Hydrographics: 0%
Biomass: 0 Quads
Class: G
Planetary Compendium
"The entire surface of Solar is covered with molten magma. Scientists are still uncertain as to why the planet never cooled from its original formation and remains in this "genesis" state. Some say that its position, directly in the center of the Sector X-Y-Z Triangle, may be the cause."
—Star Fox 64.com
Mission Briefing
"Scientists have been saying for years that nothing could possibly live on this world's surface, but Andross's ships have been scanned going to and from the planet. Only Andross would be so foolhardy as to try to find military benefit in exploiting a molten planet like Solar. Only the Star Fox Team's specially modified Arwings can withstand the heat on the planet's surface!
Intelligence -Don't fly too close to the fiery surface of Solar. Almost every enemy or object that you destroy will give you valuable Supply Rings that will replenish your Arwing's shields."
—Star Fox 64.com
Medal Score: 100 hits
Checkpoint Goal : 50 hits
"Lock on and destroy as many of the rocks that bubble out of Solar's molten surface. Most of your hit points will come from shooting these rocks. Rather than locking onto targets for your bombs, you will need to launch the bomb and manually detonate it (press B again) when it is close to the cluster of targets. Be sure to pull Falco's feathers out of the fire after the checkpoint, where he'll be menaced by a trio of firebirds."
—Star Fox 64.com
Zoness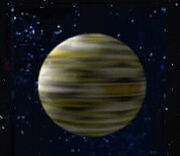 Planetary Data
Radius: 3,354 km
Albedo: .17
Gravity: .56
'Esc Velocity: 7.23 km/s
Equilibrium K: 283
Atmosphere: N250 + CO221 + CH422
Hydrographics:90%
Biomass: 1,670 Quads
Class: T
Planetary Compendium
"Zoness was once the aquatic vacation world of the Lylat system. The planet is nearly covered with ocean, with only small groups of islands breaking the watery surface. However, Andross's bio-weapon has polluted the once beautiful oceans and transformed the beautiful sea creatures into hideous monstrosities."
—Star Fox 64.com
Mission Briefing
"Andross has turned Zoness into a toxic waste dump and is rumored to be building a supply base there. The Star Fox Team must perform a reconnaissance in force to find out what Andross is planning. Watch out for mutated native life-forms-- they're tough! Andross's refinery installations have security systems with high powered searchlights to scan through Zoness's tainted atmosphere. Don't let the searchlights spot you or you'll lose the element of surprise.
Intelligence - Destroy every searchlight without being spotted to continue on to Sector Z."
—Star Fox 64.com
Medal Score: 250 hits
Checkpoint Goal: 150 hits
"The bird-like mutant creatures of Zoness are tough, but shooting them down will give you 6 points each, plus a bomb. When Katt Monroe shows up, be sure to fly ahead of her since you won't get points for the enemies she shoots down. After the Checkpoint, follow Slippy under the three platforms. As you go, bomb the barges to clear all the targets off of them. Towards the end of the mission, small flotillas of patrol boats will jet ahead of you. You can take out the complete fleet with a well-placed bomb."
—Star Fox 64.com
Titania
Planetary Data
Radius: 4,397 km
Albedo: .15
Gravity: .48
'Esc Velocity: 6.79 km/s
Equilibrium K: 226
Atmosphere: N230 + O223 + CO242
Hydrographics: 0%
Biomass: 355 Quads
Class: D
Planetary Compendium
"Titania is known as the "Red Planet" due to the huge ion storms that swirl dust from the surface of the planet into its stratosphere. Archaeologists have found surprisingly advanced ancient ruins on this planet, and, in fact, a high-tech, planetary defense system, code named "Goras," is still active. Travel to the planet has been prohibited because of to the threat to starships posed by this system."
—Star Fox 64.com
Mission Briefing
"Although traffic to Titania is usually restricted, Andross's scout forces have been detected on the planet. Cornerian planning is concerned that Andross might gain control of the planet's ancient Goras defense system. The Star Fox Team must make sure that this doesn't happen, and must also try to neutralize Goras. Since Corneria's defense forces do not have a tank corps, the Star Fox Team's Landmaster is the only vehicle that can do the job.
Intelligence - Use the Landmaster's rolling ability to avoid land mines."
—Star Fox 64.com
Medal Score: 150 hits
Checkpoint Goal: 60 hits
"As usual, bombs will help you take out clusters of enemies in this mission. Destroying the lead ships in attacking squadrons with a charged laser bolt will take out the followers with a single shot. Also, if you destroy the lead robot on the right hillside with a bomb, it will sometimes cause a chain reaction with the other robots on the hill."
—Star Fox 64.com
Macbeth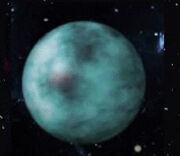 Planetary Data
Radius: 7,954 km
Albedo: .25
Gravity: 1.270
'Esc Velocity: 15.31 km/s
Equilibrium K: 230
Atmosphere: N275 + O220
Hydrographics: 68%
Biomass: 539 Quads
Class: M
Planetary Compendium
"Macbeth is well known as a mineral treasure house. The planet has a relatively large population of miners, who have recently been enslaved by Andross to manufacture weapons and supplies for his armies."
—Star Fox 64.com
Mission Briefing
"Macbeth is the industrial key to Andross's military machine. Liberating this planet from his clutches will cripple his ability to produce additional weaponry. In addition, this is the main launching point for the interplanetary cruise missiles Andross has been using to assault Corneria. Resistance fighters on Macbeth have gotten information on a gigantic train that transports minerals and weapons from the mines and factories to Andross's main base and launching area. Although the train's route is well defended, derailing that train and stopping its shipment will be a crippling blow to Andross's plans.
Intelligence -  If you manage to trip the eight switches and destroy the switch box, you'll derail the supply train and continue on to Area 6."
—Star Fox 64.com
Medal Score: 150 hits
Checkpoint Goal: 95 hits
"At the beginning of this mission, try to knock out as many of the train's cars as possible. You'll also want to take out the elevated guns as they will sometimes yield bombs. The big payoff in terms of hit points comes from shooting the eight switches at the end of the mission. Successfully hitting all of these targets will cause the train to take an incomplete side spur, which will net you 50 bonus points when it derails. The sixth switch is the most commonly overlooked, since it is hidden behind a gate."
—Star Fox 64.com
Sector Z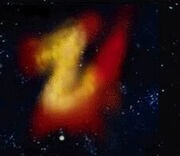 Astronomic Data
"An impossibly huge letter Z formed from space dust looms in Sector Z. Of the three different space dust sectors, Sector Z is the most dangerous. Not only do strange magnetic waves here make navigation difficult, but the area is also strewn with the wreckage of an epic battle from several decades earlier when Cornerian Forces defeated Space Pirates."
—Star Fox 64.com
Mission Briefing
"No one is sure what Andross is planning in Sector Z. It's a space graveyard full of wrecked warships, so he may be scavenging them for parts. The Star Fox Team's Arwing fighters are the only ships available that might be able to maneuver through the hazardous fields of space junk. The team's mission: scout the Sector, but use caution! It could be a trap...
Intelligence - Destroy all six missiles to proceed on to Area 6."
—Star Fox 64.com
Medal Score: 100 hits
"Try to destroy the first wave of fighters before the first missile arrives. Once the second wave of missiles appears, you'll have to concentrate on the missiles. Throughout this fight, you'll have your hands full fending off the missiles and keeping your wingmen alive. The mission will end as soon as a missile hits Great Fox, so you've got to concentrate on that threat once they appear. This is one of the most challenging medals to win."
—Star Fox 64.com
Bolse
Astronomical Data
"Bolse is an artificial satellite created by Andross to defend Venom. Due to the size of this structure, and the magnetic energy generated by its forcefield, it is surrounded by a strong gravitational field. A classified design document obtained from Andross's archives reveals that destroying the six generator pylons will neutralize its forcefield."
—Star Fox 64.com
Mission Briefing
"Andross's super defense satellite, Bolse, is the last line of defense before Venom. Only a minimal amount of information on this satellite exists. A powerful forcefield protects it from remote scanning and makes the weapons of a large capital ship useless against it. A small strike team of fighters, such as the Star Fox Team, might be able to bring down the forcefield and attack the core. Watch out for the Star Wolf team-- they are sure to be on the prowl this close to Venom. With Bolse out of the way, the path to Venom will be clear.
Intelligence - The strange gravitational field swirls around the station's force field. It will accellerate your ship if you go in one direction, and it will slow you down if you go in the opposite direction. You can use this to your advantage in destroying the forcefield pylons."
—Star Fox 64.com
Medal Score: 150 hits 
"Destroy all of the energy towers to drop the force field around Bolse's power block. Once down, enemy fighters will pour out of the base. Destroy as many of these as you can before Star Wolf arrives. Once they get there, try to knock them out as quickly as possible, since they will really go after your wingmen. If you defeat them quickly, you can earn up to 10 bonus hit points per Star Wolf team member."
—Star Fox 64.com
Area 6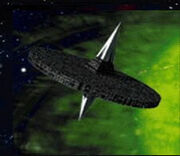 Astronomical Data
"This area of space has no unusual features, but it is the most convenient atmospheric re-entry point from which to strike at Andross's home base. The legendary battle station Death Ball, which is equipped with a matter-displacement device, is said to control this area of space."
—Star Fox 64.com
Mission Briefing 
"Area 6 is the Cornerian Defense Force's military designation for the most heavily defended sector of space around the planet Venom. It is actually the most effective attack point to strike at Andross's palace, which would explain the heavy defenses. Cornerian forces simply do not have the strength to punch through these defenses, but a small, quick team like Star Fox might have a chance. If you can make it through the defensive cordon here, you'll have a straight attack run on Andross himself!
Intelligence - Good luck!"
—Star Fox 64.com
Medal Score: 300 hits
Checkpoint Goal: 150 hits
"You may not have many bombs by time you reach this stage, but these high explosives will come in handy to destroy missiles and the ships that link up into one. You can destroy the big cruisers by shooting them in the bridge, but it takes a lot of shots. Be sure to clear their decks of guns before you go after the bridge. Good luck getting this medal; it is one of the toughest in the game!"
—Star Fox 64.com
Venom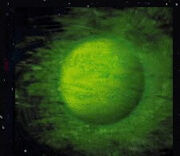 Planetary Data
Radius: 8,529 km
Albedo: .52
Gravity: 1.43
Esc Velocity: 14.84 km/s
Equilibrium K: 188
Atmosphere: N243 + CO236 + CH412
Hydrographics: 0%
Biomass: 0 Quads
Class: U
Planetary Compendium
"Venom is a harsh frontier world on the periphery of the Lylat system. The atmosphere is almost unbreathable, and the rocky surface is broken by rough cliffs and chasms. Because of its distance from Corneria, it has never been fully explored."
—Star Fox 64.com
Mission Briefing 
"Very little information about the mysterious planet of Venom is available. Andross has undoubtedly built a base of maze-like tunnels going deep into the planet. Because his base is hewn from solid rock, there is no way to learn anything about it from orbit. At this point, the Star Fox Team will be up against the most elite of enemy forces. The Star Wolf team is sure to show up, and will be flying the most advanced ships in Andross's arsenal. This will be the team's last battle before going up against Andross himself, so be prepared to fight hard!
Intelligence - You'll face a different version of Andross depending on which path you took to Venom."
—Star Fox 64.com
Medal Score: 200 hits
"Apply your flying and targeting skills to this mission to score maximum points. If you earn the medal in this mission, you will be allowed to use the Landmaster tanks in the Versus Mode."
—Star Fox 64.com

Synopsis (Instruction Booklet)
"Eight years have passed since Andross was finally overthrown by the daring Star Fox team. Following the celebrations, Fox McCloud and friends returned to the only life they knew - an endless patrol of the Lylat system, guarding against ongoing threats to their territory.
Boredom soon struck, causing Fox's close friend Falco Lombardi to simply disappear, leaving only rumour to suggest that his lone-wolf nature had finally led him to pursue a more free and profitable life.
Then Slippy Toad traded his pilot's wings for a place in Weapons R&D, demonstration a natural flair for invention, while Fox's old friend and mentor Peppy Hare retired from active flight duty to concentrate on a role as a navigator and general adviser.
The Great Fox itself had also seen better days. Keeping a ship of that size in prime condition cost serious money, and well-paid jobs for fighter pilots and mercenaries were increasingly difficult to come by.
So it was that Fox and co. found themselves drifting through the galaxy, waiting and hoping for General Pepper's hologram to pop up with just the kind of high-stakes, high-reward mission that they might need…"
—Star Fox Adventures; Instruction Booklet

Synopsis
"ALL SHIPS, REPORT IN!
One year has passed since disaster was averted on Sauria, and Andross's armies have been almost eradicated... but now a new threat has risen from the darkness of space. The aparoids, creatures bent on assimilating all beasts and machines into their corrupted hive mind, are spreading relentlessly, and Team Star Fox is the only thing standing between them and the utter ruin of the Lylat system."
—Game's rear cover

Fox Stands Alone...
"In days gone by, the burning desire of Dr. Andross to rule the Lylat system filled the galaxy with the chaos of war. The mad ape sent out wave after wave of armies from his stronghold on the planet Venom, and used unique forms of radiation to create horrible monsters and terrible soldiers. His ambition swept this army across the galaxy too the planet Corneria.
It was there, however, that a quartet of mercenaries known as Star Fox put an end to the threat, and the leader of the team, Fox McCloud, defeated Andross in single combat.
In the years that followed, Venom was designated a forbidden planet and placed under the rigorous watch of Cornerian forces. All was going well until a mysterious army suddenly sprung forth from the toxic seas of the the planet. Controlled by a mysterious leader called the Anglar Emperor, this new threat cuts through the Lylat system like a scythe through ripe wheat. The unexpected attack once again places the peoples, cities, and culture of the Lylat system in dire peril.
But much to the shock and dismay of the Lylat people, the members of Star Fox have gone their separate ways... leaving Fox McCloud as the lone obstacle in the Anglar army's path. Despite the odds, Fox heroically launches himself into the fray. But can he survive without the aid of his former teammates?"
—Instruction Booklet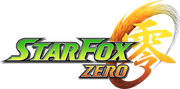 Team Star Fox arrives on Wii U for a new adventure
"An evil empire has risen and the Lylat system is in danger. As legendary space pilot Fox McCloud, blasts through an onslaught of enemy forces to bring peace to the galaxy. In this white-knuckle space shooter, it'll take more than luck to master the Arwing jet, the Gyrowing flight drone, and the Landmaster tank! You have what it takes. Now prove it.
General Pepper needs your help! Use your TV's cinematic view to fly and identify targets and see through the eyes of Fox with the Wii U™ GamePad's screen as you lock onto enemies and fire. You'll also have to use advanced flight techniques like boosting and barrel rolls to survive the relentless assault.
With the help of the rest of Team Star Fox, tackle missions in the air and on the ground in a variety of planets teeming with enemies. Then engage vast armadas of powerful ships in outer space dogfights. Master your craft, defy the odds, and earn your face-to-face meeting with Andross. Only you can restore peace to the galaxy!"
—Star Fox Zero.com
References
Community content is available under
CC-BY-SA
unless otherwise noted.