Aspects from the Star Fox series have made their way into other games over the years.
Platforms
Handhelds
You can get an Arwing as a piece of furniture which plays the Star Fox theme tune when used.
The penultimate boss of the game is large head with hands, similar to Andross in
Star Fox 64
.
StreetPass: Mii Plaza features four collectible hats for Mii characters to wear from the Star Fox series. The first pair are a Fox Hat and Arwing Hat which can be found by playing Find Mii 2.  The remaining Falco Hat and Wolf Hat can be exchanged for coupons earned in either Mii Force, Flower Town, Warrior's Way, and Monster Manor. 
The Arwing item from the previous games returns as a random prize for the fortune cookies. The following fortune is read for the Arwing, "Your friends need you. They always need you. They will never stop."
Steel Diver: Sub Wars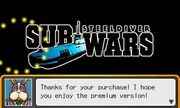 In
Steel Diver: Sub Wars
, a character resembling Peppy appears to introduce the player to the free game. This is also a reference to
StreetPass: Mii Plaza
, as a talking rabbit also sells games in that game.
Star Fox
character designer Takaya Imamura also did character design for
Steel Diver: Sub Wars
. 
In the June 2014 update of Steel Diver: Sub Wars, the Blue Marine from Star Fox 64 was added as a free DLC submarine.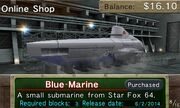 Fox McCloud appears as a playable character in Monster Hunter Generations.
In WarioWare Gold, the microgame
Star Fox
returns from
Smooth Moves
, however it has been adjusted to play as a standard microgame, rather than a Boss microgame.
F-Zero series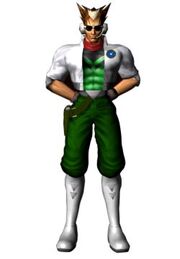 Although different series by both gameplay and by settings but somewhat similar, both the Star Fox and F-Zero series are Nintendo properties and each have made several cameos or references to each other throughout their respective histories. Both the Star Fox and F-Zero series have Takaya Imamura as lead character designer. "F-Zero X" introduces two racers who are throwbacks to Star Fox characters. The first is James McCloud a human recreation of his Star Fox counterpart, whose vehicle the Little Wyvern also slightly resembles a modified Arwing. The second character is Leon, an alien who resembles Wolf O'Donnell with Leon Powalski's name. In "F-Zero GX", "F-Zero GP Legend" and "F-Zero Climax", both James McCloud and Leon reprise their roles as playble racers. In the GCN game, James McCloud's character design was updated to look even more like his to said character, such as his haircut resembling a fox head (despite being human). He is also revealed to be part of a group called "Galaxy Dogs," a obvious parody of the name "Star Fox." Another reference to Star Fox is McCloud's biography in F-Zero also notes him having a wife and a young son, except that unlike the F-Zero character, his Lylatian self's spouse has only been identified in the Nintendo Power comics, where he wasn't named specifically as James until the N64 game. Leon was also further updated to with enhanced artistry to resemble Star Wolf's leader.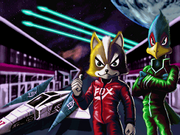 The N64 game also introduced Octoman, who would later make an altered appearance in Star Fox Command, the same game that had a homage to the F-Zero series in the game's 9th possible ending outcome; "The Curse of Pigma", where Fox and Falco retire from the Star Fox Team and become a racing team within the G-Zero GP.
Another factor to consider is that both Star Fox and F-Zero have both been featured in every entry in the "Super Smash Bros." series.
Community content is available under
CC-BY-SA
unless otherwise noted.