A comprehensive list of games and spin-off media that feature Leon as a supporting antagonist or cameo.
Star Fox 64/3D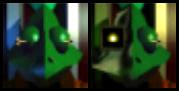 Leon debuts in 
Star Fox 64
, where he appears with the rest of his team at Fichina, Bolse and Venom after passing Area 6. He always targets Falco while branding him as an "Annoying Bird" and proclaims himself as "The Great Leon". He exclaims after being shot down in the Wolfen II with surprise that Fox is "Too strong".
Strategy Guide description
"Leon the chameleon is a master of disguise and cunning tactics. No one knows where he comes from, but one thing is for sure: leon loves to inflict pain and mayhem wherever he goes. He is second only to Wolf as a flyer."
—Official Nintendo Power Player's Guide, pg 9
Star Fox: Assault

Leon returns in 
Star Fox: Assault
where he has remained on the team, acting the same as before, maintaining his rivalry with Falco, even when Star Wolf cooperates with Star Fox.
Instruction Booklet description
"A member of Star Wolf who's a cold-blooded assassin. He has no morals or conscience and will perform any job with machine-like disinterest."
—Star Fox: Assault; Instruction Booklet
Website bio
Wanted: Leon Powalski
Species: Lacertilian
Team Star Wolf: Accomplice
Powalski is known for his cold, calculating nature. An excellent fighter pilot, many of Corneria's best pilots have fallen to his razor-sharp aim.
Star Fox Command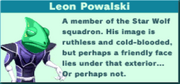 Leon appears in Star Fox Command where he pilots his own customized Wolfen, the Rainbow Delta.
Website bio description
"Leon Powalski
Leon's image is ruthless and cold-blooded. The Rainbow Delta's advanced shields allow Leon to deeply penetrate enemy lines."
—Star Fox Command Website bio (Leon)
Rainbow Delta
| | |
| --- | --- |
| Laser | N/A |
| Lock | Wide |
| Bomb | 2 |
| Shield | 5 |
| Boost | 2 |
| Time Bonus | 2 |
Star Fox Zero
Leon returns in Star Fox Zero, staying closer to his Star Fox 64 characteristics and design. His rivalry with Falco is actually reported on the site making it more clear of their implied staunch rivalry.
He first appears in Sector β, where he will fight the Star Fox team alongside Pigma Dengar and Andrew Oikonny (the former of whom they had earlier encountered at Area 3).
Leon later appears on Fichina in an attempt to prevent Star Fox from finding a massive weapon, although he ultimately failed. If the player managed to shoot him down before Wolf O'Donnell appears and in turn shoots down Peppy earlier, he will also be seen wearing cybernetics mirroring that of his appearance in Star Fox 64 during the Venom Hard Route.
He last appears in Mission 12 alongside the rest of the Star Wolf team where they guard Venom from Fox shortly after the latter deactivated the force field preventing entry to the Corridor of Illusions leading straight to Andross, with his Wolfen being equipped with a Hunter mode.
"Notorious space pilot and reported rival of Falco Lombardi."
—Star Fox Zero.com
Super Smash Bros. Series
Super Smash Bros. Brawl
Leon makes a cameo appearance in the Lylat Cruise level of Super Smash Bros. Brawl. If you use Fox, Falco, or Wolf on the stage and press the taunt buttons repeatedly without being interrupted, Leon and other Star Fox characters will comment on the battle. Leon is featured in the following events:

1. Star Fox encounters Star Wolf and will not let them leave alive. Wolf also tells Fox that he will take him down.
2. Star Fox and Star Wolf meet once again. Leon appears to have a new ship as they head into the battle, where Falco is fighting other opponents.
3. As the stage and Star Wolf head into the skirmish, Leon becomes envious of Wolf - perhaps a bit too envious, as he gets carried away and Panther asks him what he's actually jealous of.
4. Falco is chased by Star Wolf after angering them. He tells Slippy to back off, and that he can handle it.
5. Leon and Slippy enter Cornerian air space. Slippy gazes at the water, which Leon thinks is breathtaking. Slippy then mistakes Leon as a frog, because they both have a long tongue. Leon tells him not to put them in the same group and to drop the subject.
6. Leon, Panther, Falco, Krystal, and the stage itself enters the asteroid field, which worries Leon and Krystal. Panther, hearing this, begins to flirt with Krystal. Falco tells him to get crushed by the asteroids, leading to another one of Star Wolf and Falco's infamous arguments. Leon is only heard in the beginning, saying "Star Wolf is here in the asteroid field".
Trophy description
Name
How to Unlock
Picture
Description
Leon Powalski
Random

A member of the Star Wolf Team and a cold-blooded assassin. Without an inkling of goodwill or moral standing, Leon carried out duties as required by the job, remaining indifferent and robotic throughout. On top of his lethal skills, he maintains a solid reputation as a skilled pilot. Leon has been a teammate of Wolf's ever since belonging to the Venom army.




Star Fox / Lylat Wars (N64)
Star Fox Assault (GCN)
Super Smash Bros. for 3DS and Wii U
Leon appears in the fourth Super Smash Bros. title as a trophy. It claims he is a sniper and his preferred weapon is a rifle, possibly the Sniper Rifle. It referred to him having a long stretchy tongue which might allude to his Smash Taunt conversation in the previous title with Slippy trying to relate to him. The info also claims that he is Wolf's most trusted ally considering his long standing placement on the team.
Wii U Trophy description
Super Smash Bros. for Wii U
Name
How to Unlock
Picture
Description
Trophy Box
Leon Powalski
Series Related

"Star Wolf's resident sniper. When he finds his mark, he takes them out with-what else?-his long chameleon tongue! ...OK, you got us; he uses a rifle. Maybe. We haven't watched him do it. Anyway, he's a merciless foe you don't want to cross, but if he's with you, he'll never let you down. He's Wolf's most trusted ally."
—NA release
"Star Wolf's resident sniper. When he finds his mark, he takes them out with - what else? - his long chameleon tongue! OK, just kidding. He uses a rifle. Probably. We haven't watched him do it. Anyway, he's a merciless foe you don't want to cross, but if he's with you, he'll never let you down. He's Wolf's most trusted ally."
—PAL release

N64: Star Fox 64 (07/1997)
GameCube: Star Fox: Assault (02/2005)

35. Star Wolf
3DS Trophy description
Name
How to Unlock
Picture
Description
Leon Powalski 
Series related

"Star Wolf's resident sniper. When he finds his mark, he takes them out with-what else?-his long chameleon tongue! ...OK, you got us; he uses a rifle. Maybe. We haven't watched him do it. Anyway, he's a merciless foe you don't want to cross, but if he's with you, he'll never let you down. He's Wolf's most trusted ally."
—NA release
"Star Wolf's resident sniper. When he finds his mark, he takes them out with - what else? - his long chameleon tongue! OK, just kidding. He uses a rifle. Probably. We haven't watched him do it. Anyway, he's a merciless foe you don't want to cross, but if he's with you, he'll never let you down. He's Wolf's most trusted ally."
—PAL release
References
NINTENDO POWER Star Fox 64: Official Nintendo Player's Guide. Redmond, WA, Nintendo of America. 1997.
Star Fox Assault; Instruction Booklet