| | |
| --- | --- |
| | We need your help, users! This article/section is a stub, meaning there is little information to fill its contents and needs more information to expand it upon. If you know any information taken from gameplay or strategy guides, you can help Arwingpedia's article by expanding it. Referenced sources are appreciated. Hurry users! |
| | |
| --- | --- |
| | This page is currently undergoing maintenance. This may be due to out of date information or new information detailing from an upcoming or newly released game. Therefore, please excuse its incomplete and informal current state. |
| | |
| --- | --- |
| | This page or some/one of its sections may require clean-up, or is in need of new information due to the release of an upcoming game. If you would like to help, try editing the page to fix any grammar mistakes or false information. |
| | |
| --- | --- |
| | This article needs pictures. You can help Arwingpedia by uploading pictures. |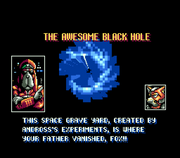 The Awesome Black Hole, or simply Black Hole, is a stage found in Star Fox on the SNES. The area is not on a direct route, just like Out of This Dimension.
In the game
Along with this, a bunch of random debris, such as ships, float about. Warp Rings appear in the level, and flying through one will lead you to a certain level in the Lylat system. Unlike most normal areas, this stage only functions as a warp zone, as made famous in Super Mario Bros.
Reaching the Black Hole
To get to it, you must choose Level 1. In the level after Corneria, Asteroid Belt, the player will eventually come across gray asteroids rotating around a red one. The player will see three of these. Blasting the center reddish-orange asteroids as close as possible on each one without hitting it will make an asteroid with a smiling face appear to the left. Shooting the asteroid will open a warp, and flying through it will send Star Fox to the Black Hole.
Warps of the Black Hole
Warp 1: First warp you come by. Flying through it leads you to Sector Y.
Warp 2: Second warp you come by. Flying through it leads you to Sector Z.
Warp 3: Last warp you come by. Flying through it will lead you straight to Venom.
Missing all 3 Warp Rings will simply make the level loop.
Notes
The enemies that appear in this level are actually pieces of some mechanisms encountered in the game. There's the cannon from the Attack Carrier, Phantron's first form, half of the Metal Smasher, the head of the Great Commander, and assorted Cornerian fighters.
Community content is available under
CC-BY-SA
unless otherwise noted.