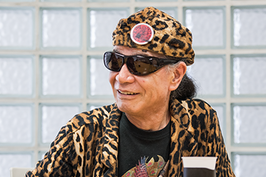 Benimaru Itoh is an artist that drew early Star Fox promotional art. He is best known for illustrating the Japan-only Star Fox Mission File Printout and for writing the Star Fox comics published in the Nintendo Power magazine. You can see in the last panel of some strips the following words: "Story & Artwork by Benimaru Itoh".
The comic series was an adaptation of the first Star Fox game for SNES. It also introduced a new character to the Star Fox universe: Fara Phoenix. It summarized Fox McCloud's early life, his motivations, and Andross's role. However, the comics are considered non-canon, as the expanded storyline contradicts certain elements in Star Fox 64 and beyond.
His name also appears in the Star Fox 64 credits, in the special thanks section. The official reason is unknown. He is also referred as "source modeling chief: Pokémon Stadium", and as "original game staff" during the credits of Super Smash Bros. for the Nintendo 64.
Itoh returned to the Star Fox series as a concept artist for the 2016 animated short, Star Fox Zero: The Battle Begins.
References
Nintendo Power Issue #45, February 1993 to Issue #55, December 1993.
Star Fox 64 credits.
Super Smash Bros. credits.
External links
| | |
| --- | --- |
| | We need your help, users! This article/section is a stub, meaning there is little information to fill its contents and needs more information to expand it upon. If you know any information taken from gameplay or strategy guides, you can help Arwingpedia's article by expanding it. Referenced sources are appreciated. Hurry users! |
Community content is available under
CC-BY-SA
unless otherwise noted.